Have you ever tried content based EFL learning? This is when you learn English while learning something else, like history, or technology, or… how to carve fruit!
You have surely seen all these carved fruit and vegetables arrangements that look like flowers, like birds, like vases, and you might have been thinking that it is too hard to make things like that. Oh course, you need some skills, but the truth is that, first, you need tools to be able to practice the skills.
This unique opportunity will be offered to you on Sept. 27, 2016 in our English speaking ICAN Club in Minsk. Bring a fruit or a vegetable you would like to carve – and do it! The tools will be provided.
It's not too hard. For instance, I was able to make this watermelon flower in my first try.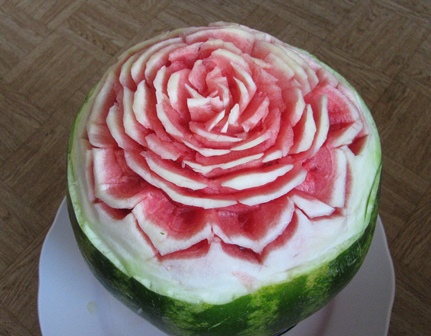 You can do this to!
You might wish to watch some videos how to carve the fruit you have chosen. Like this video about making flowers from carrots.

Besides, we will open the gift from Natalia, a former regular member of our Club, who now lives in Austria and kindly sent us something to try. at last
And we will also listen to Dasha's story about Barcelona and look at the awesome pictures she is going to share with us.
Please, sign up before midnight on Monday Sept 19. If you cannot come, please, cancel by calling +375 29 2592164. No other ways of cancellations are accepted and failure to cancel before 6 pm on Tuesday will result in 50% charge.